Back over the summer, Grace United Methodist Church donated $6000.00 to New Futures. Another example of Community Helping Keep Families Together! One of the overlooked needs of
shelters, are items that might be considered unnecessary, such as swing sets or other toys. Not to mention, there is never money in the budge for large scale items like an incredible 2 story gigantic, kid's dream, swing set, climbing wall, super slide hangout. Grace United Methodist Church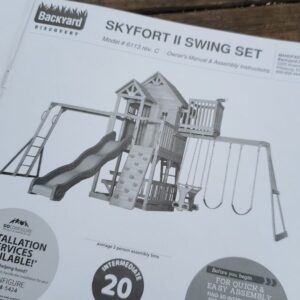 saw this and requested that we use part of the donation to go towards a nice outdoor set for the many children that live at the New Futures lodge.
We have been searching for just the right one and finally found it. Last week, volunteers, Board members and spouses of board members came out over the weekend to start putting together the play set.
New Futures would like to thank Grace United Methodist Church for seeing a need and helping us with this generous donation. The kids are extremely excited as well. They cannot wait till the construction is complete and they can start having fun in the Skyfort.