New Futures Telethon
August 22, 2018 @ 6:00 am

-

6:30 pm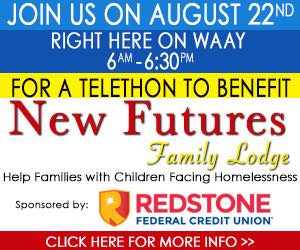 Join New Futures on WAAY Channel 31 in an all day telethon sponsored by Redstone Federal Credit Union. Please watch and call in your donations and pledges to our volunteers to help support our efforts in keeping families together.
$500 can sponsor a family for a month. $100 can assist in providing required work clothes and shoes needed for employment opportunities. $72 can sponsor a community dinner for the entire house. $36.25 can help a person obtain state ID in order to get employment or services.
Just think… if 10 people in your office each donate $50, that's a family adopted for a month.
Join us to help offer a hand up to these families, as we help them move from homelessness to stable living.